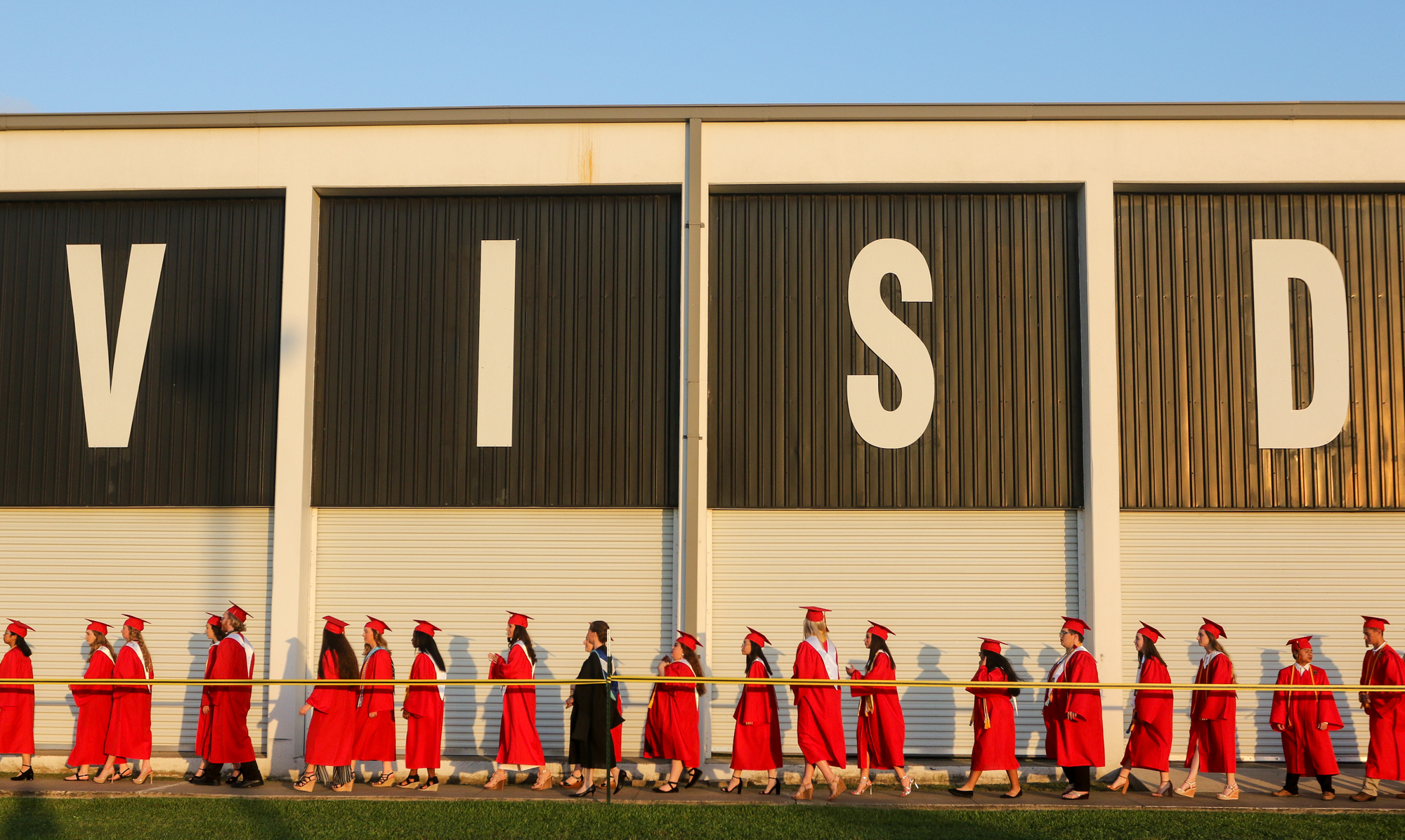 Victoria East High School students walk past a VISD, Victoria Independent School District building, to their graduation ceremony at Victoria Memorial Stadium in Victoria, Texas, on May 24, 2019.
Albert Kitchens, 52, sits to conserve his energy before the start of his wedding ceremony on June 15, 2019, in downtown Victoria, Texas. The wedding was put on by Harbor Hospice where Albert a patient battling cancer.
Texas Water Safari participants and spectators gather at the Meadows Center in San Marcos, Texas, for the start of the race on Saturday, June 8, 2019.
Jordan Saenz lays across a heifer alongside fellow Rowland Elementary School students during the Victoria County Farm Bureau 3rd annual Ag Day field trip at the Victoria Community Center in Victoria, Texas, on April 12, 2019.
Models line up backstage in the kitchen of the Victoria Community Center before walking in the style show at the 2019 Bridal Showcase in Victoria, Texas, on Sunday, January 6, 2019.
Otto Cervenka, Hallettsville Director of Public Works, sits in his truck and watches vultures react to Scare-Away Launcher shots fired by James Migl over property in Hallettsville, Texas, on April 1, 2019.
Victoria West High School students enter Victoria Memorial Stadium in Victoria, Texas, for their graduation ceremony on May 25, 2019.
Victoria East High School cheerleader Kendall Karnowski, 17, takes a selfie outside the gymnasium at Victoria East during halftime of the boys basketball game against Victoria West on January 5, 2019.
Justin Urbano, Victoria City Council candidate, kisses his daughter, Kaezlyn, 3, during mayoral candidate Rawley McCoy's election results watch party at Mumphord's Place Restaurant in Victoria, Texas, on May 4, 2019.
Allison Leita kisses her animal during the Market Steer Judging event at the 2019 Victoria Livestock Show on March 2 in Victoria, Texas.
Tony Allen, Vietnam veteran, carries a flag past a shadow of a cross at Parkway Church during Warrior's Weekend Field of Honor Flag Posting in Victoria, Texas, on May 4, 2019.
Jim Lehrer, award-winning journalist and author, reacts to seeing his newly installed recognition plaque in downtown Victoria, Texas, across from the Leo J. Welder Center on April 2, 2019. Lehrer graduated from Victoria College in 1954.
Kaybree Edward's feet dangle from the truck bed where she watches Patrick being bathed during a March 30, 2019, charity dog wash event hosted by the Air Force JROTC Cadets from East, West and Liberty Academy at Foxy Hound Pet Spa in Victoria, Texas.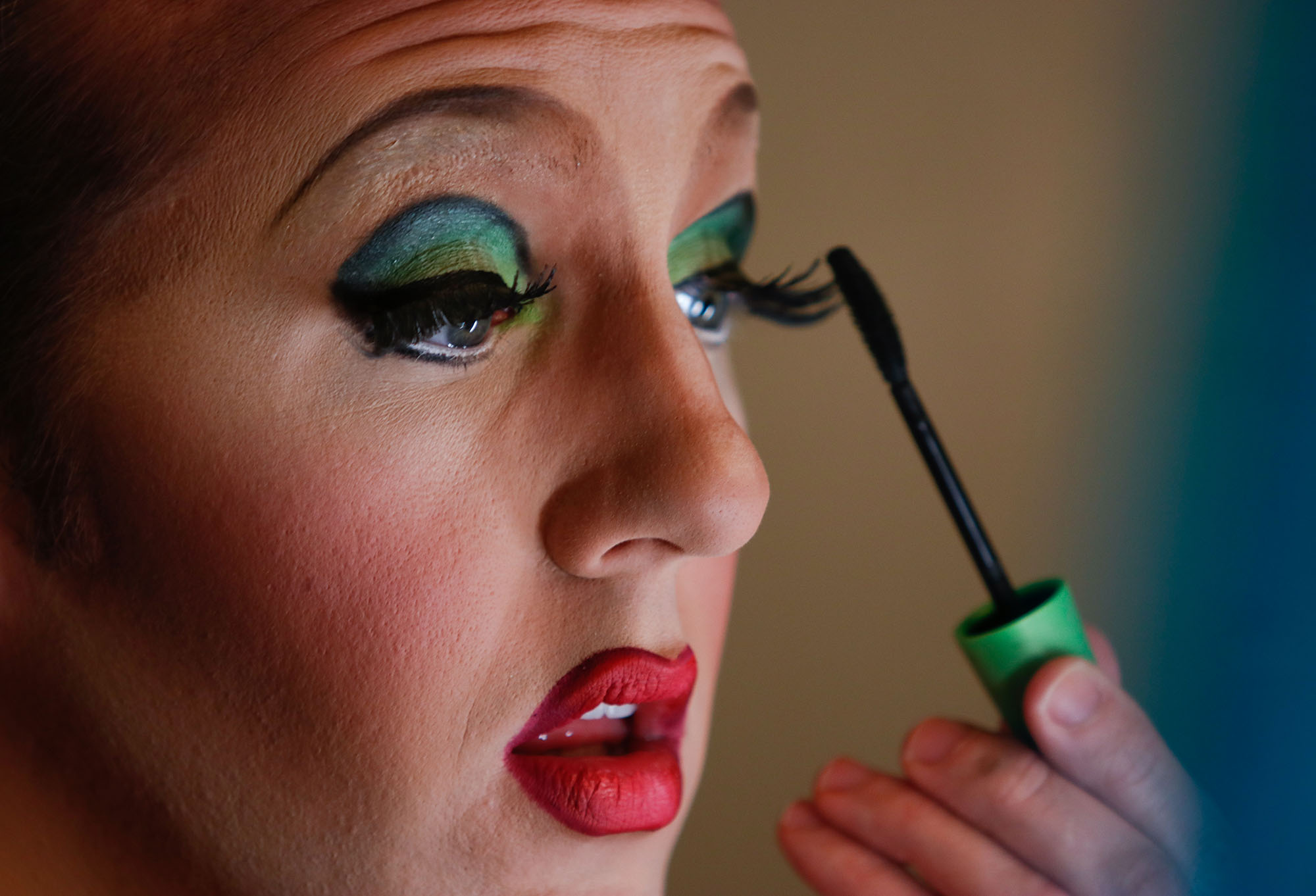 Trevor Ramsey, 29, a University of Georgia graduate student, applies makeup in preparation for a drag performance at Go Bar in Athens, Georgia, on February 21, 2018. Ramsey studies linguistics at UGA and performs as a member of Athens Showgirl Cabaret in his free time.
Garrett Holloway, 23, a craftsman from Tifton, Georgia, poses on the porch of his latest building project in Bishop, Georgia, on Wednesday, August 30, 2017. Holloway is building a "tiny house" entirely on his own; September 2017 marks one year since he began the project.
Ammishaddai Grand-Jean, Student Government Association Believe ticket president, awaits University of Georgia SGA election results at the results reading in Tate Plaza in Athens, Georgia, on March 28, 2018.